Tom Gildred opened Emerald Textiles in September of 2010, and since its beginning Emerald the hospital linen services provider, has been winning.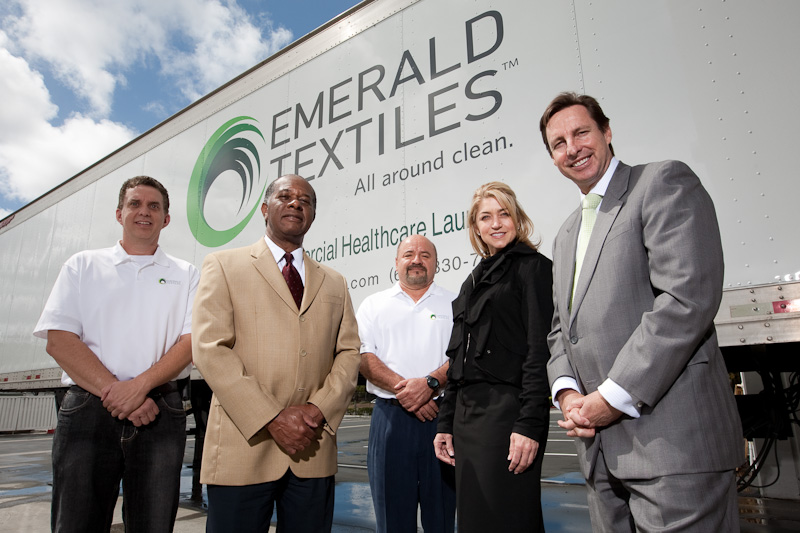 The following article was written by the San Diego Business Journal.
"Gildred, the company's chief executive, said the business obtained several contracts from three of the area's biggest hospital systems: Scripps Mercy Medical Group, Sharp HealthCare, and the UC San Diego Health System.
"We've done well in the RFPs (requests for proposals or bid packages) that were sent to us," Gildred said. "We haven't gotten all of them, but we've done well."
The compelling factor helping to win contracts for supplying the hospitals with clean linens and scrubs is Emerald Textiles' high-tech, automated system that Gildred said cost about $20 million.
"This is based on our state-of-the-art equipment, and nobody's made this type of investment in this industry in all of California," said Gildred.
In terms of water use, Emerald's high-tech washing machines will save an estimated 40 million gallons annually compared to using traditional processes. For natural gas, annual estimated savings by its advanced driers are more than 700,000 therms, the company said.
Linens Processed Systematically
What may be even more impressive is Emerald's logistics system for receiving, sorting, washing and delivering the laundry. The bed linens, blankets, and scrubs are moved along through the various stages of cleaning using huge duffel bags hung from an overhead monorail made by E-Tech of Minnesota. The hanging bags that move along the rail system eliminate workers' having to pick the bags up and reduces the number of back injuries commonly experienced at industrial laundries, Gildred said.
"We use about a half gallon of water per pound of laundry where a typical industrial laundry would use about 1.8 gallons per pound, and a typical home washer would use 15 gallons per pound," said Dan Leavy, Emerald's director of customer service.
The seven-cycle washers can handle 4,000 pounds of laundry per hour. At full capacity, operating with two eight-hour shifts, Emerald Textiles can clean and press about 60 million pounds of laundry a year, Gildred said.
Victor Heredia, operations manager for Emerald, said at previous laundries he's worked at the equipment was replaced as it wore out; here, everything is brand new, he said.
Heredia and other Emerald managers were involved in designing the laundry's layout of machinery. The design was done by Western State Design of Hayward.
Gildred's partner in Emerald Textiles is Bob Payne, the former owner of the Hanalei Hotel and Old Ox Restaurant (both of which were sold), and a major donor to San Diego State University. Gildred's father is a cousin of Theodore Gildred, chairman of The Lomas Santa Fe Group and a former U.S. ambassador to Argentina.
Both men decided to get into the laundry business after seeing a need and realizing that modern, energy-saving equipment would greatly reduce expenses and gain market share.
Landing a Big Customer
John Cihomsky, spokesman for Sharp HealthCare, said Emerald beat out four other vendors to provide the laundry service to the organization that encompasses seven hospitals and 19 Sharp Rees-Stealy medical clinics. While he didn't disclose the dollar value of the three-year contract, Cihomsky said it will save the company an estimated $1 million in the first year.
The energy savings derived from the modern equipment was a factor in awarding the contract, Cihomsky said. "We're working with a company that has efficient technology that's reducing water and power usage. That coincides with our green initiative to reduce our power usage and reduce our waste stream, and do whatever we can do to have a positive impact on the environment."
Sharp's former laundry provider was Angelica Corp., a Georgia-based company that was acquired by a private equity firm, Trilantic Capital Partners, in 2008. Patricia Strauss, an Angelica director in San Diego, said Emerald's entrance into the local market has had an impact. "It has taken some business away from us," Strauss said, without providing details. Local employment, which the company said last year was 400, has dropped, but Strauss declined to provide the number.
Gildred said Emerald began operations at the plant in the fall with a skeleton crew of 80, which has since expanded to about 170 workers. "We'll be adding between 50 to 60 more people over the next six months," he said. Eventually, as business picks up, staffing should get to about 250.He said annual revenue in the first full calendar year will run about $20 million to $25 million."
– San Diego Business Journal